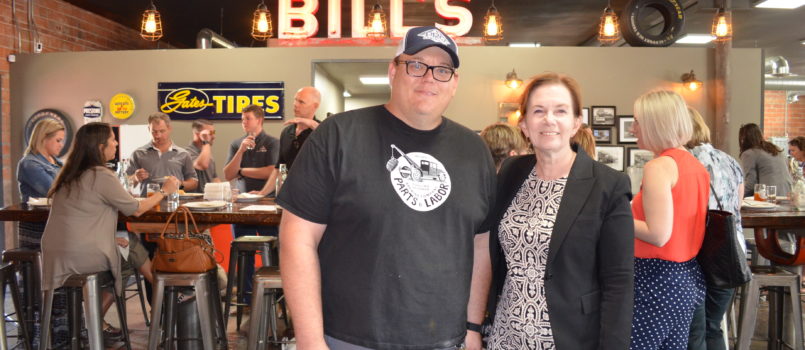 Many major developments have taken place over the past few years with many others in process or planning.  Currently, Logan County has well over $310 MM of capital investment committed to the area.  That includes projects that are in process now, others that are in planning or due diligence, and some that will begin construction within the next 18 months.
DOWNTOWN STERLING REVITALIZATION 
Revitalization of Downtown Sterling is a key economic development initiative of the City of Sterling, Logan County Chamber of Commerce, Sterling Urban Renewal Authority, and Logan County Economic Development Corporation.  Historic preservation and building improvement efforts have a common goal to bring residents back downtown and attract tourists.   The downtown renaissance has resulted in new community vibrancy with over 25 new businesses including boutiques, restaurants, a microbrewery, and arts cooperative.  LCEDC also opened The Annex, a coworking facility, in July of 2019 after renovating the former county jail that had been vacant for 15 years.
Several more businesses are currently in different phases of opening and exploring concepts.  Some that have been announced include Overland Trail Distillery, Silver Dollar Bar and Grill, and NECO Aesthetics.
In 2019, The CO Department of Transportation began a $17 MM project to reroute state highway traffic in Historic Downtown Sterling, which will help with traveler navigation through the area and enhance the corridor.  The Sterling Creative District also received state designation status making it the only creative district on the Eastern Plains.  Other downtown area projects include new intersection bump outs and landscaping that will be placed throughout downtown to continue enhancing walkability and the overall appearance of the area.  The Sterling Community Fund is championing an effort to develop an urban park on the corner of Main and 4th Street that will serve as a community gathering spot and help add to the amenities being developed in the area.
Photo above: Parts & Labor Brewery Co-founder / brewer Dylan Harford and Colorado Lt. Governor Donna Lynne along with Colorado Office of Economic Development & International Trade staff, community leaders, LCEDC members and staff enjoying lunch. (courtesy photo – Lisa Young, Journal-Advocate)
 CURRENT DEVELOPMENT PROJECTS 
Horizon Motor Sports – completing a large expansion on a vacant facility to expand product offerings with full line of boats.
S Curve – Halfway through the $17 MM state highway project to enhance freight corridor
Niyol Wind Farm – $200 MM NextEra Energy project for new wind farm
Peetz Table wind farm upgrades – Major reinvestment into the existing wind farm to upgrade facilities
Housing developments – LCEDC is finishing a housing needs assessment to be presented March 2020
City of Sterling Waste Water Treatment Plant – $35 MM project to build a new facility
Deer Run Senior Housing – City property under contract for potential $14.5 MM affordable senior housing project
Buffalo Hills Marketplace Development – City property under contract for 42 acres of commercial development at I-76 and Hwy 6
Northeastern Junior College Applied Technology Campus expansion – $6.8 MM building remodel to upgrade the Wind and Industrial Technology, Welding and Fabrication, Automotive and Diesel, and Precision Agriculture programs.
RECENT COMPLETED PROJECTS (This list is a representation and not exhaustive list)

L7 Hemp – Invested in over 3000 acres of CBD production industrial hemp and extraction operation
CO Hemp District – 70 acre sub-surface CBD hemp farm with major expansion plans
Holiday Inn Express – New hotel property
McCauley's Moustache Cafe – Downtown Crepes and Coffee
The Annex – coworking facility with multiple entities:

Cape Construction
NextEra Energy Land Development
Defense Management Company Inc

Avery Technical Resources – Relocated corporate headquarters to Sterling
Hot Spot Smokehouse – Downtown Sterling BBQ restaurant
Sterling Mill Service – Opened a regional fabrication and repair shop in Sterling
DGM Global Builders – Construction company
The Harmony Home – Assisted living care based on a model of home-like individual care
Sterling Creatives – 15 member Artist Cooperative
Mad Man Fabricating/Sterling Customs – Custom car restoration
Transwest completed construction and opened new facility – Summer 2017
Chamberlain Concrete – Spring 2017
Long-Term Care Group held hiring fair for local telecommuters – Spring 2017
Lorenzo Apothecary – compounding pharmacy in Downtown Sterling
Applewood Laundry, Orange Leaf Frozen Yogurt, Ella J's, Country Creations, Rusty Bucket, and other entrepreneurial businesses.
Buckeye Welding Supply – Built a new facility expansion
Open Press – Artist print making shop relocated from Denver
East Chestnut / I76 gateway to Sterling road improvements
---