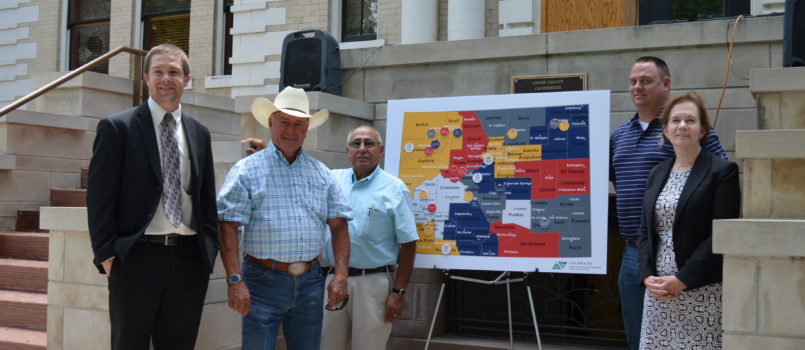 Pictured above (L-R): Trae Miller LCEDC Executive Director, Logan County Commissioner Dave Donaldson, City of Sterling Mayor Dan Torres, Logan County Commissioner Bryon Pelton, Colorado Lt. Governor Donna Lynne following announcement of 2018 Blueprint 2.0 Certified Small Business Community award. (courtesy photo – Lisa Young, Journal-Advocate)
Logan County Economic Development Corporation (LCEDC) is a 501 C 3 not-for-profit corporation formed in 2001 to expand the economic base of Logan County, Colorado.
What We Do
Retention and expansion of existing businesses
Recruitment of diverse and complementary new businesses
Infrastructure development
LCEDC functions as a point of contact to assist with the acquisition of financing; local and state incentive packages; and state, federal and private grants. It also serves as a liaison between industry and local government to facilitate industry establishment and expansion.
Who We Are Staffed with a full-time Executive Director with board oversight, LCEDC is the entry point for  economic development.  LCEDC's leadership team includes board members and staff with diversified industry and management experience in real estate, construction, telecommunications, project management, finance, operations,  and small business.   The Board includes representatives from private sector membership, as well as the Sterling City Council, Logan County Board of County Commissioners, and Sterling Urban Renewal Authority.  The depth and breadth of our team contributes to accomplishing our mission to grow Logan County's economy.
Trae Miller, Executive Director – As a native of Logan County with strong business experience, Trae brings a local perspective combined with a strong business approach and strategic thinking to his leadership role. His previous experience included Business Development Analyst, Feed Formulator, and Buyer at J.D. Heiskell & Co, Lead Buyer and Account Manager for Cargill Food Distribution in Denver and Salt Lake City.   Board involvements include El Pomar Foundation Northeast Regional Council, Logan County Childcare Collaborative, Northeast CO Economic Developers, and Logan County Chamber of Commerce.   Trae is a graduate of Colorado State University with a degree in Business Administration with Marketing Concentration and Certificate in Financial Analysis.
OFFICERS For 2022:
President – Tom Kiel, owner Better Electric
Vice President- Chip Powell – owner Kentec Communications
Secretary  – Jenny Sergi – General Manager, Holiday Inn Express and Suites
Treasurer – Joe Brewer – Vice President, Sr Relationship Manager, TBK Bank
BOARD OF DIRECTORS:
Lisa LeFevre – VP Admin Services, Northeastern Junior College

Wendy Jerman – Owner, Town Square Realty
Andrew Fritzler – Owner, New Method Cleaners
Ned Resch – CEO, Sterling Regional Med Center-Banner Health
Cade Reynolds – Partner – Northeast Agri Services
Ryan Etl – Sterling Urban Renewal Authority Rep 
Mike Anderson – Sterling City Council Rep
Marty Gaines – Sterling City Council Rep
Joe McBride – Logan County Commissioner Rep
Kevin Blankenship (Ex-Officio) – City Manager, City of Sterling
Membership
LCEDC is a membership supported organization.   By becoming a contributing member, your business will have direct input on our strategic direction and opportunities to serve on committees.   Investment levels vary and provide a range of benefits.    All members receive regular Executive Director updates, communications on other special seminars or events, invites to the LCEDC Annual Meeting, and eligible to receive a Colorado Enterprise Zone tax credit for contributions.
LCEDC Membership
---